REACH OUT AND TOUCH FAITH (NOMADIC REVERY 2)

The previous night's excellent gyro was followed by an equally excellent Saturday morning eggs benedict. Food is good for the old and chubby.


In a fortuitous happenstance, our trip coincided with an exhibit on Indian and Pakistani art at the Seattle Art Museum. Rebecca studies Asian art, so this was perfect for her, and since she works at the Portland Art Museum, we were able to get in as part of the two institution's reciprocal program. Some of the paintings dated back to the 16th century and they all came from the collection of one man, which is pretty amazing to think about. Many of them were done on small pieces of paper, put together as parts of albums, and often depicted famous stories from Indian culture—meaning lots of Krishna and Shiva and other important figures. They ranged from the romantic to the grotesque, and were full of vivid colors. There was also a much more obvious thread through time than in most Western cultures. It was easy to see how each generation informed the next, and they even had a side exhibit with two artists who were keeping tradition alive.


The opening act, Kenna, was awful—proving you can be produced by half the Neptunes and still sound like shit. I had heard his album over a year ago and declared him a poor Depeche Mode wannabe then—and said record has only just come out. The main problem is he has no variety to his presentation, vocally or musically. There are no peaks or valleys. He sings everything straight across. And his sincerity is overblown, leading him into bad poetry—as evidenced by his heartfelt story regarding the girl who had told him his song "Love Hate Situation" had inspired her to quit heroin. Rebecca wondered if she started heroin, if that would negate that good he had supposedly done. I said it would.


Coming out on his first solo tour for his first solo album, Paper Monsters, Gahan seemed ready to indulge in all of his rock star fantasies that years of being on stage with synthesizers and giant tape machines haven't allowed. Not that he hasn't been the peacock of Depeche Mode all along—it's just now he got to do a "real" rock show, with a "real" rock band, and there would be no screaming for Martin Gore or anyone else. Just him. So, he followed the four piece in his signature suit pants and vest (which lasted maybe one song), opening with the awesome "Hidden Houses," a song I never really paid much attention to on Paper Monsters, but that really came to life in this setting—while ironically, my favorite of his solo work, "Hold On," seemed to lose some of its gentleness in the #2 slot. Right from the get-go, too, it was clear Gahan was going to let every impulse for audience participation be fulfilled. He's always been known for the singalong (think the fantastic "Everything Counts" from Depeche Mode 101) and the "let me see your hands" arena rock gesture—and he wasted no time getting into that here. In fact, it came off as arrogant at first, expecting that everyone would be able to join in on the solo stuff—except they all could. Shows what I know. Still, was it really too much to ask for him to sing the title line from "Dirty Sticky Floors" at least once? It was his lead single, after all.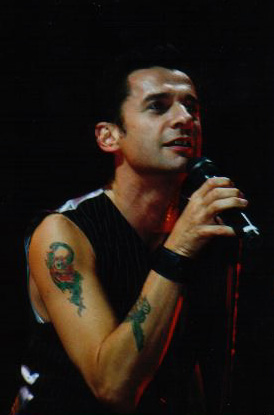 The bulk of the main set was from Paper Monsters. In fact, I think he played the whole album (though "Black & Blue Again" could have been skipped, as he weighted it down with harmonica and a little too much jamming). The fourth song was the first of seven from Depeche Mode, and it was instantly clear that Paper Monsters doesn't cut the mustard when shoved up against his original band's compositions. "A Question of Time" completely rocked, and it wasn't just Dave onstage—shirtless and sweating, spinning around and doing his high kicks—it was the audience, too. As much as they hung on his every word, no matter the number, the surge of energy that came with a DM tune was immediately palpable.


The show really kicked into high gear, though, when Gahan laid into his second Depeche Mode number, "Walking in My Shoes." He kept the energy on high after that, following with "I Need You" and "Bottle Living" from his own album, and capped by "Personal Jesus," always the biggest audience participation number—with the majority of the crowd raising their hands in a symbolic reaching out to touch faith. Interesting that the set ended on a darker song, then—but "Goodbye" was one of the best things off of Paper Monsters when it came to the live setting. In fact, the slower numbers all took on more girth with the live band, especially "A Little Piece."


Encore #1 was a stormer. "I Feel You" was a no-brainer when it came to guessing what Gahan would pull from the DM catalogue. The heavy rock riffs were tailor-made for Gahan Mk. II, the rock 'n' roll animal that nearly destroyed himself and the band in the mid-'90s. He followed with "Never Let Me Down Again," still one of the best DM singles. The keyboard player gave the main piano hook a more bluesy, deep sound.


On any given night, that encore would have been enough, but the band returned to perform another quick medley in a stripped down set. Playing a tiny organ, a halved drum kit, acoustic guitar, and stand-up bass, they crowded to the center stage while Gahan strutted through "Policy of Truth" and a fabulous "Enjoy the Silence" that segued into the first verse and chorus of "Just Can't Get Enough" at the bridge. As a long-time fan, this was a real treat. It's rare to hear the songs reinterpreted in such drastic ways (they recalled "Love In Itself 4" more than, say, the acoustic "Personal Jesus" or harmonium "Enjoy the Silence").


Say what you want about Depeche Mode, or a lead singer having the hubris to go solo, but Gahan still knows how to command an audience. Part of it is not forgetting they are there. He had no problem plunging his hands into the crowd to shake a few. He even brought one girl on stage to dance with him during the start of the second encore. Perhaps the biggest testament to his stage presence was that Rebecca, who doesn't know her DM from her OMD or even her ODB, was suitably impressed. Before the show she had asked if it was okay if she went and read in the bar if she didn't like it; she stayed through the whole thing.


As an added bonus (if you want to call it that), we got a second show throughout Gahan's set—the rather attractive and leggy blonde in the row in front of us who was rubbing herself and her feather boa all over her date through the entire show. She was clearly turned on by the performance, and she was going to take it all out on her companion. Eventually, he sat down for a while, and we debated whether he was just tired out from blue balls, or if he had accidentally gotten a little too happy in his pants and had to recharge. At that point, the girl—being a terrible tease—did turn around and stick her tongue out at him, and it seemed like it pissed him off a little. He looked like a guy out of a porno—a big dude with a flat, brick-wall nose (think Darwyn Cooke's version of Slam Bradley), ears pierced with big gold hoops, and bleached blonde hair gelled down. I am glad I couldn't here his pornstar grunting.


All in all, it was a packed weekend, with very little to disappoint. It was relaxing and got me away from work and other pressures—and it was two shows I wouldn't have wanted to miss. I have no clever ending to tie it all up—except maybe to point out I had a bad processed chicken sandwich on the train, since the guy in front of me who looked like Wilford Brimley got the last pre-cooked hamburger. Could it have been downhill the whole way home?


Current Soundtrack: Kelis w/ P. Diddy & Richard X; Nick Cave & the Bad Seeds, The Good Son; The Primitives, Lovely