DO YOU REMEMBER MINNIE?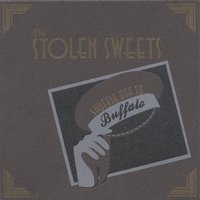 For those of you out there who have been waiting, the Stolen Sweets have their debut album available for ordering from CDBaby: Shuffle Off To Buffalo.


I went to their show celebrating the release at the Aladdin last night, and it was one of their best I've ever seen. The sound was amazing, and they had guest musicians on drums, cello, and violin. Erin kindly invited Joëlle and I to the after party, as well, and drinks were shared.


The link gives you a chance to listen to the record, as well, so please, sample the wares.


Current Soundtrack: Simon & Garfunkel, Parsley, Sage, Rosemary, & Thyme


Current Mood: fey
golightly@confessions123.com * The Website * Live Journal Syndication * My Corporate-Owned Space * The Blog Roll * "Can You Picture That?" * DVDTalk reviews * My Books On Amazon
[to leave comments, click on the time-stamp below, then scroll down on the new page] – All text (c) 2006 Jamie S. Rich